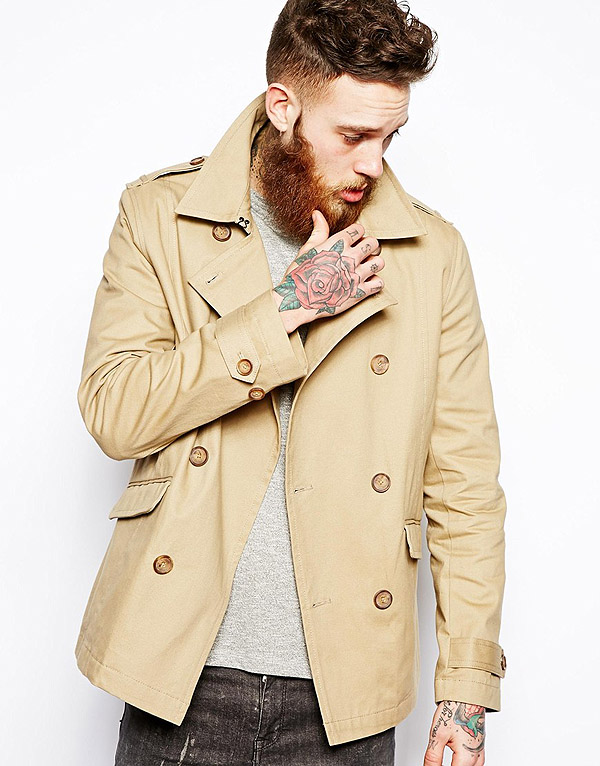 It never fails. I always want shit I'd probably never be able to wear. Blame the Los Angeles weather. One staple I've always wanted to cop was a peacoat. But rocking one during our "winter" would result in me sweating like a whore in church. So that idea got 86'd years ago. The solution to layering up in cold-ish weather was found while window shopping Asos.
The Shorter Trench is just what I had in mind. Longer trenches are for East Coasters and creepers. I'm only one of those. You don't see many trenches out here on account of the SUPER DROUGHT. Hell, I haven't used an umbrella in like two years. The dope thing about this particular trench is that it's short enough to wear casually or in place of a suit jacket for the corporate types. Plus the belt got nixed for obvious reasons beyond aesthetics. I plan on pairing it similarly to this hipster looking ass dude but without those 80s stonewashed jeans. Button up, thin crew neck sweater, jeans and either workboots or some low profile retros. Chucks or even Cortezes aka the Nike Costanzas would work well. Workboots are for the masculine Americana look, and sneakers to dress it down for a night out.
Pennyloafers or desert boots would work with these as well if you've got them in your closet. I believe I'll stick to my boots or sneakers though. Catch me in this coat in the Fall son!
---
---