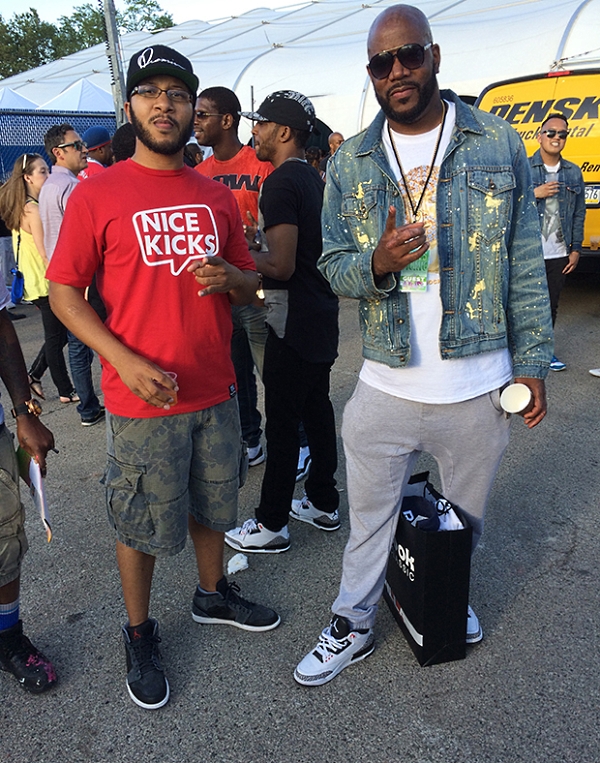 Pic via Nice Kicks
The tables have turned Eddie!!! Now let's be clear. Ed Lover been my dude from the jump, ever since I first saw him on MTV Raps. Since then he's pioneered the "C'MON SON" phrase and used it ad naseum to turn it into a successful business. Not mad at that. But I must hit Ed with his own medicine.
Ah man where to start. I know Ed reps NY heavy, but did he really have to go out and cop a Levi's x Bird Shit x Money Shot collaboration denim jacket to show the city love? Son really got that jacket off of a porn fluffer. The shoulder seams aren't even hitting where they should be. Based on those fuckass sweats, I don't eem know if he's sporting a tall tee. Either way, Delroy Lindo's lighter skinned brother needs to chill on all that. The design of the shirt is dope though. I'm not hating on a Jesus Piece tee since they're synonymous with NY Hip Hop. Shouts to Biggie and Ghost for being the innovators as far as that's concerned.
And now, time to cook my dude for rocking those extended long johns. Everybody tryna be on the wave of dropcrotch pants but the fad needs to go the way of Yung Berg's rapping career. But not before catching some beatings in broad daylight upon its exit. What's the point g? Just sag your pants dumb low if you want to look infantile. Rocking pants with stumpy legs just gives the appearance that you really rocking that Spongebob type of body. No thanks. I'm Asian so naturally I need all the help I can get looking taller. And stylized pantaloons with an exaggerated gusseted crotch is not the way to do that. These days most newbie designers either sell those low rise pants that crush your nuts when you sit down, or they're trying to sell stolen goods from a pineapple under the sea.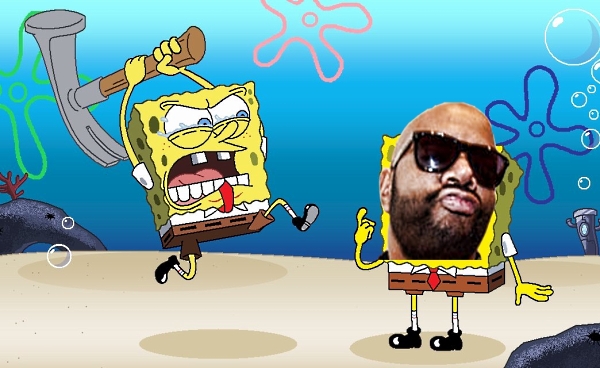 "There can only be one!!!"
There are positives though. Not sure of the brand of those shades, but the classic aviator design has lasted decades for a reason. And the Air Jordan III 'Infrared' joints are pretty respectable. He kept em unlaced too which is solid. No one should be tying their laces on their kicks super tight unless they're about to bust out some magnificently athletic type of maneuvers while rocking em.
I will leave Mr. Lover (PAUSE) with these words. Dress your age fam. Nothing wrong with a tailored look even if you are Hip-Hop royalty. Plain, well fitting tees won't ever get you roasted. Neither will standard joggers since it looks like that wave will be around for a while. Leave all that Aladdin styled fuck shit for the younger crowd who will face palm themselves down the line when looking at older pics.
Boogie out!
---
---