I really think that everyone has their own style for the most part, and even if something isn't what I prefer, if they can pull it off then kudos. But at least once a week I'll catch myself shaking my head at celebrities or fellow sneakerheads for their outfits. You have to take risks to be stylish and stand out, and sometimes those risks turn into Ls. And sometimes those Ls end up on this site. Hell, I know I've taken a few myself. All in good fun though. Here we go: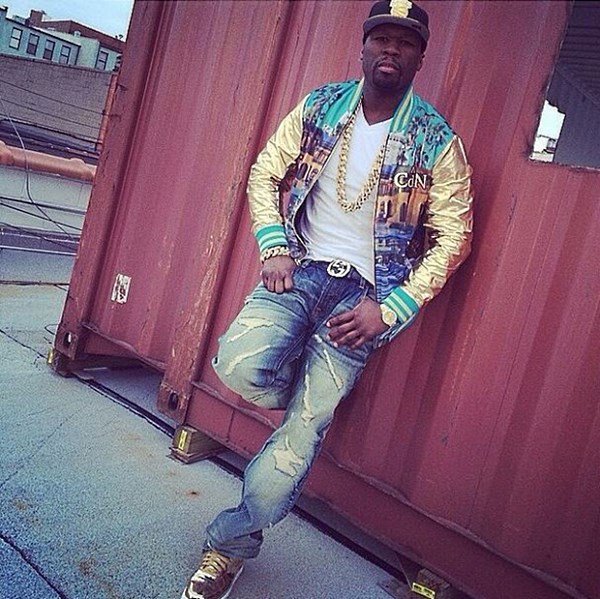 CUURRRRRRTTTTTTIIIISSSSSS!!! Where's Ed Lover when you need him. Fiddy is living a baller ass lifestyle, and his business moves and jewelry certainly reflect that. But his wardrobe though? Basura. An all metal toned shoe gets plus points from me. They're not for everyone but I like the idea surprisingly.
Going matchy matchy with the gold tones shoulda died before it even started. Nothing bad to say about the Knicks fitted, even though I prefer original colors, but what's with that jacket? Shit looks like a Goldschlager bottle had a threesome Illmatic album cover and a vintage Versace shirt and this was the lovechild. Weird. The tucking the shirt behind the Gucci belt shoulda been nixed along with your last 3 albums as well my dude.
For all the money Fiddy makes, he could have at least rocked respectable denim. These True Religion specials look like work pants that even my fam who work construction and painting gigs would be like "nah, toss them shits." On the plus side, at least the contrast stitching isn't mad annoying. The stacking at the bottom is pretty suspect though. Get a taper and a proper hem.
A solid alternative? Boughie ass track jacket, some proper fitting tapered denim and an original colorway New Era fitted. None of this American Needle bullshit. With that said, you hiring 50?
---
---