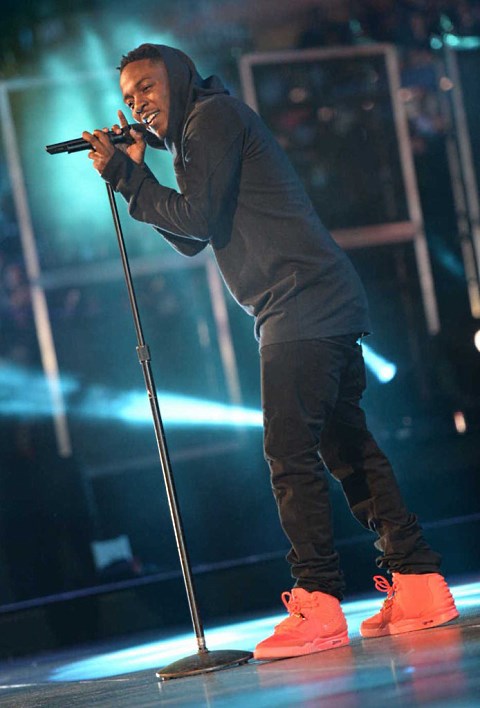 One of the best parts of the 2014 All-Star game was King Kendrick's performance the night before the actual game. As usual he brought his energy to the song and straight killed it. Better yet was his understated outfit while he jammed out.
YAWK YAWK YAWK YAWK!!!
Typically I'm not a fan of mixing navy with black, but this understated fit spoke volumes. No costume needed. Just well executed styling. Peep how to copycat the look:
Simple right? Let's start with the thermal hoodie. It's more of a thick shirt but still warm enough to rock with a wife beater underneath in 65 degree weather. Not an exact match since Kendrick's hoodie is a cowl neck and the F21 version isn't, but still a solid substitute with a nice texture to it. The low cost version runs true to size but on the slimmer side.
The jeans are Levi's 508s which are slim fit but have a nice taper to showcase your kicks. If you've got real skinny legs you can opt for 511s, but 508s are for the thick thighed folks like me. Pause. A nice double black color is always a good look. Until you wash it. Turn em inside out, wash on delicate with Woolite and you can prevent some fading, but they'll never look as good as the first time you broke em out. Fair warning. That's why I tend to go lower in price with jeans of that color.
The kicks are tricky. We probably will never find
legit
Red October Yeezy 2s for a price that doesn't cost a few mortgage payments. The next best thing is the Diamond Supply Jasper in red, but that's hitting for around $250 since selling out. Look into the
Diamond Brilliant
in red as another option. I hate to mention it, but there's a fair amount of all red Supras on the market as well. You just won't ever see me rocking them.
Tanner Goods
makes awesome belts. The ones that are a very light tan color might look really weird and too skinned toned for your liking, but they age really well. Like selvedge denim, you'll get wear in all the right places and the end result will be a sweet looking belt with a dope patina to it. Invest the extra couple bucks and always go with real cowhide leather.
Personally I think the key here for the entire outfit is the nonexistent branding. I'm typically in favor of not brand whoring with logos n shit, and copping classic looks first. K Dot does a great job of that in this instance. Obviously the Red Octobers speak for themselves, but this outfit is proof positive that you can have a simple outfit and still stand out in a crowd. But not in a HEY HEY HEY HEY LOOK AT ME AND ALL I'M WEARING kind of way.
Boogie out!
---
---
You might also like
---